Soon after touching down on Vanuatu's largest island Espiritu Santo, I am being driven through cow paddocks dotted with banyan and coconut trees to a beachside villa. A volcanic plume rises from neighbouring Ambae island, which is currently being evacuated. But we're safe here, I'm reassured by our host John, as he hands me a welcome drink on the deck. The most exciting thing likely to happen is a dugong bobbing past in the crystal clear water.
John is a Kiwi who originally came to Vanuatu as a tourism development volunteer along with his wife. They've since become citizens. For now, they say, Santo is still off-the-beaten-track. With a population of only 40,000 it is much less developed than Efate, home to the country's capital Port Villa. But tourism is growing on Santo, with direct flights from Sydney and Brisbane. The coastline is lined with a string of boutique resorts, and there's a large resort purportedly being built by Chinese investors. Cruise ships dock once or twice a week, inundating the famed Champagne Beach with tourists.
Vanuatu is a serious contender for actual paradise. Beautiful beaches, sapphire-blue swimming holes dotted throughout the jungle, and unbelievably open-hearted and friendly people. Yes, I know I've previously written about the cliché of people being 'poor but happy'. But Vanuatu might be the real deal. The country is rated as the 4th happiest in the world by the Happy Planet Index. Yet it is also ranked 134th in the UN's Human Development Index. Only one third of the population has electricity access. And yet to a person, local taxi drivers, bus drivers and tour guides are full of smiles and totally disinterested in overcharging me. I feel incredibly safe everywhere I go.
Why are people so happy? One taxi driver tells us he likes to earn a bit of cash by driving, but there is no pressure to work because his family's land can provide everything he needs. He feels sorry for the owners of the fancy houses we're driving past, because they have to stress about money and don't have time to relax with their family. This was the first hint of the importance of land ownership to people's wellbeing in Vanuatu.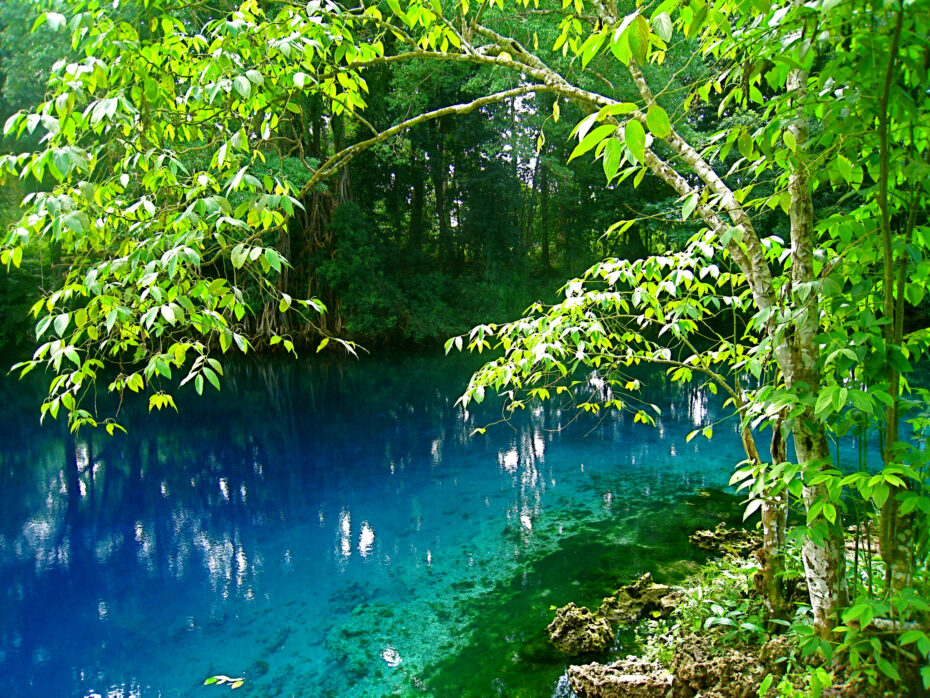 Neocolonialism in Vanuatu
Though 98.5% of the population are Ni-Vanuatuan (Indigenous), their stake in the tourism industry is very small. Our snorkelling guide on Santo, Fabrice is descended from first-wave French colonialists, but there's a now a new wave of expats – especially Australians and New Zealanders, but increasingly Chinese investors too – flocking to the Pacific-island paradise and buying up the coastline.
On Efate, the most populated island, 90% of the coastline is now foreign-owned. Some have made a permanent sea-change and are citizens, or aim to become citizens. We even meet a white chief, originally from Australia, who owns a restaurant and hotel on Santo, and was invited to become a chief by the community. He told us of the heavy burden of trying to resolve local conflicts in the community, and the huge time commitment the role required. Clearly, there is no simple way to categorise expat land owners in Vanuatu, and their impacts can be both positive and negative. But the reality is that expats have become a relatively wealthy, mostly white, minority group in a country that is undeniably poor.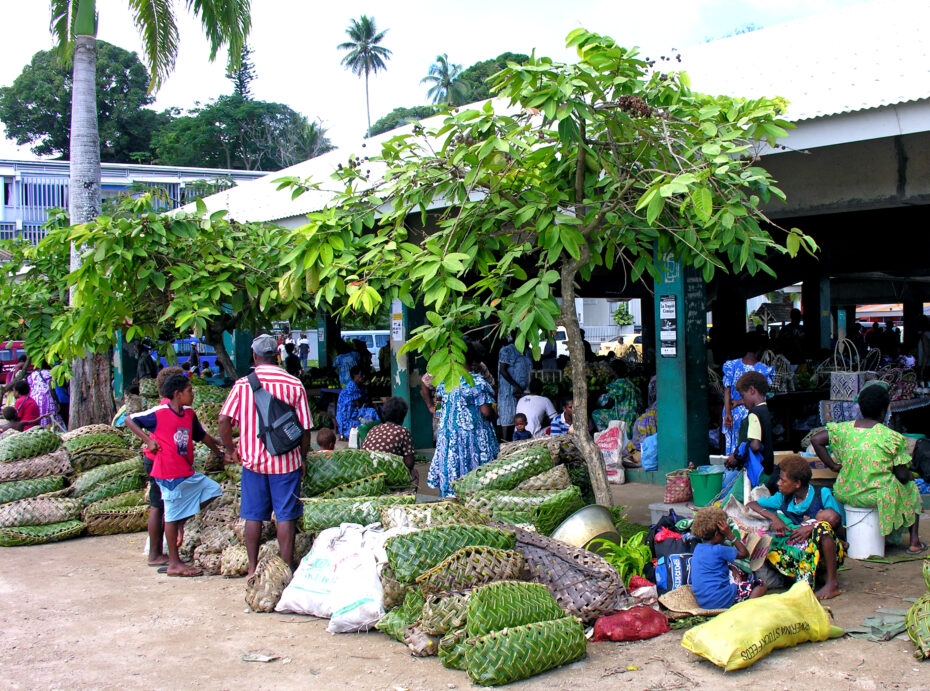 When I booked our stay, I didn't know any of this. But in Vanuatu I could sense this reality and it felt uncomfortable. Lounging on a deckchair eating market-fresh croissants and jackfruit, I felt like a brazen neocolonialist whilst Joe the Ni-Van gardener swept leaves off the lawn on his own land, for 30,000 Vatu a month (roughly $300 AUD). With high school fees of $630 per year, it's no wonder most kids only get a primary school education here. John's land has been leased for 75-years to our Kiwi hosts. After this time, theoretically the government is entitled to buy back the lease at the market value. But even our hosts admit, 'they'll never be able to afford it'.
I do a bit of digging, and discover that in 1995, the World Tourism Organisation drew up a tourism plan for the Vanuatu government. It prescribed a liberalisation of the sector, changing property ownership laws to allow the privatisation of beaches and reefs, and offering tax breaks to tourism investors and developers. Small and medium sized bungalows and guest houses with a small turnover are supposed to be reserved for citizens of Vanuatu. But foreign owners circumvent these rules by forming token partnerships with locals.
Vanuatu's official Tourism Action Plan acknowledges that bungalows owned by Ni-Van locals often struggle to compete against well-marketed foreign or expat owned resorts. It's hard for locals to provide the same level of luxury and comfort. The result is that locally-owned bungalows often sit empty.
With this development of the coastline, locals are increasingly locked out of the privately-owned beachfronts, now occupied by tourists on beach towels. An Oxfam report documents an expat real estate agent telling a prospective foreign land buyer that exclusive use of the beach next to the property could be guaranteed with the use of some big dogs and a shotgun.
Life and death on Santo
Our Kiwi hosts had become citizens, and were clearly in Santo for the long haul. They employed Ni-van staff, and said they even paid their 5% VAT tax (a goods and services tax which many evade). But Vanuatu is a country with no income tax at all. With no tax base, the government is heavily dependent on foreign aid from Australia, China and New Zealand. It struggles to provide public services, especially healthcare. The result is a two-tiered system.
For locals there are no chemotherapy or radiotherapy treatments available. When locals get cancer, it is often a death sentence. They may die without even understanding that they have cancer. Many locals turn to black magic, using healing water from a local spring in hope of a cure.
On Santo, some good-hearted tourist operators have banded together to paint the local hospital and put screens on the windows of the neo-natal ward to protect babies from malaria. Dentists and medical specialists who own houses here run clinics pro bono and volunteer at the hospital. This is heartening, but doesn't change the entrenched inequality between those with a golden ticket out of the country, and those without.
As we drive past the cemetery, our host John remarks 'that's where I'll live next'. Or at least that's the dream – to spend the rest of his life here in Vanuatu. But it's complicated. His wife is in New Zealand for cancer treatment. The need for quality health care threatens to close the door on their island life.
How to be a better tourist – community-based tourism
Foreign ownership aside, tourism contributes 40% of Vanuatu's GDP (making it 9th most tourism-dependent country in the world). So they need visitors. But it's worth trying to make a genuine contribution when you go. Here are some ideas:
Stay at least one night in locally-owned accommodation. It might be less luxurious, but it will be a more authentic, memorable experience and a way to make sure your tourist dollars are contributing. You can search for village homestays and locally-owned bungalows on the Vanuatu Tourism website. You can find more locally-owned bungalows here. Disclaimer – I didn't do this, as I didn't find out about it until too late, but I definitely will next time I visit.
If you're up for a hike, do the Millenium Cave Tour on Santo. The tour is run by the community of Vunaspef Village, who are custom landowners of Millennium Cave, with the initiative supported by New Zealand and Australian foreign aid. You'll get the chance to visit and directly support a traditional village. The way out involves floating down an incredibly beautiful river in a magical, mossy little gorge that photos cannot do justice to. It's a tiring day with lots of walking up and down, but really unforgettable. The vibe in the village can feel a bit awkward at times. The guides are villagers and don't necessarily have the smooth-talking English language skills or confidence to interact on an equal-footing with tourists. Accept this as part-and-parcel of supporting genuine community-based tourism. You can also stay in the village, or join another of the tours they offer including a plant and bush medicine tour, or a water lobster hunting tour.
Visit Santo's unbelievable Blue Holes. These are freshwater pools in the rainforest with exceptionally clear, sapphire blue water. You'll pay a fee to the custom owners to visit their pool, helping to support the local community. Go early in the morning if you want to get in before the crowds.
On Efate, the main island, do the Lelepa Island Day Tour. You'll get to swim on a gorgeous beach (or laze in a hammock), and snorkel in the enchanting waters off Lelepa, where sunlight dances through rocky grottos filled with colourful fish. I saw an adorable (and highly toxic) dog-faced puffer fish!
Take a trip out from Port Vila to visit Tanna Coffee and Aelan Chocolate Makers. Both are fair-trade, providing a fair price to bean growers. Aelan Chocolate Makers does a great tour where you can learn about their process, and buy lots of sweet souvenirs to bring home with you.